All articles
4 Keys to Adopting Smart and Scalable EV Charging Systems in Multi-Tenant Buildings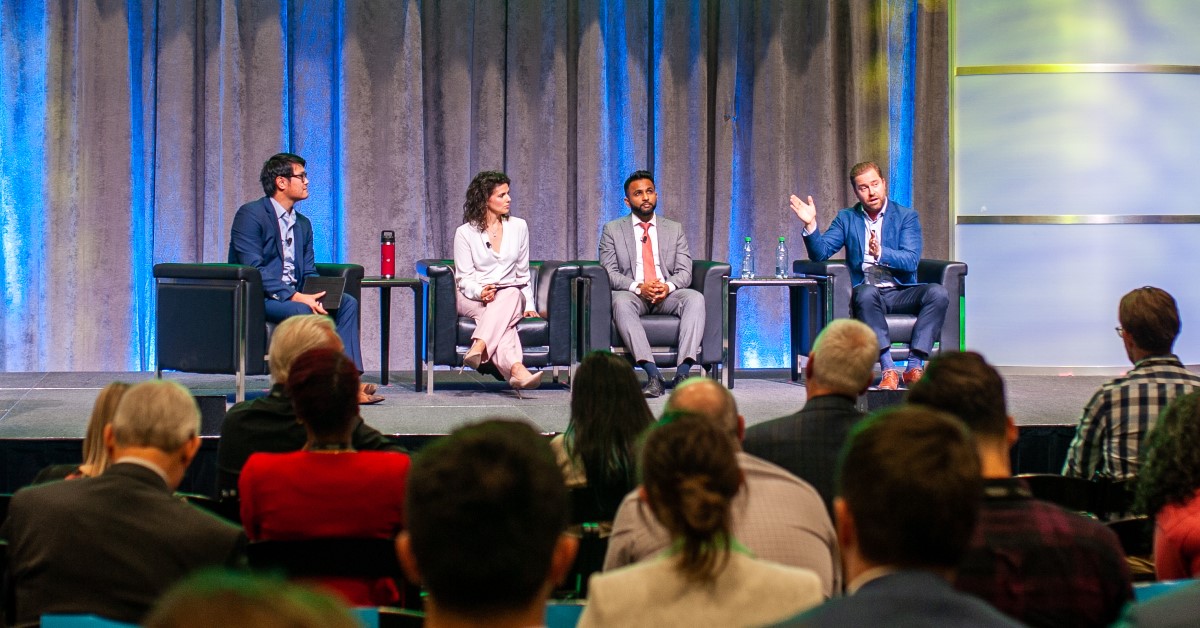 Partner up, build it, get it funded and future-proof your investments: these are the four key pieces of advice given by a panel of multi-use building management experts during a recent round-table discussion held at Toronto's EV Charging Expo.
Moderated by SWTCH CEO Carter Li, the panel consisted of Fay Yachetti, Director of Sustainability at the Skyline Group of Companies, Abid Syed, Manager of Building Technology at KingSett Capital, and Graeme Armster, Director of Innovation and Sustainability at Tridel.
The trio gave a deeply insightful look into the approaches that some of Canada's largest multi-tenant property owners & managers are taking towards meeting current EV charging demand at their properties while preparing for the future, with all three stating the importance of partnering with companies that enable them to meet their charging goals.
1. Partner Up and Get To Work
Finding a company that understands and has experience in the EV charging space was an obvious commonality between all three companies, yet 'partnership' has taken different forms. 
Skyline acquires and manages apartment, retail, and industrial buildings and, as such boasts a portfolio of buildings with varying ages and grid capabilities, meaning that there was no "one size fits all" approach for them when considering adding EV charging. Likewise, KingSett Capital manages residential, office, retail, and industrial buildings comprised of existing properties and new builds, many of which are in city cores. Tridel, by contrast, builds new developments and sells them on completion, so their concern is centered around new-build installations and future-proofing.
Speaking about Skyline's partnership with SWTCH, Yachetti said, "We know real estate, and we know property management, but we're not EV experts, and by partnering with SWTCH, we can tap into their expertise and network. EV charging doesn't have to be an additional burden for property management. SWTCH maintains the chargers and takes care of pretty much everything. So having a strong partner means minimal training for our staff with boots on the ground. We can sit back and reap the benefits of having added value for our tenants."
KingSett needed their chargers to provide demand and load management, and they too found a fruitful partnership with SWTCH. "We partnered with SWTCH because the smart chargers can load manage, providing power where needed, to whichever vehicle needs it the most," said Syed. He went on adding that KingSett found the best approach was to go for the quick wins installing chargers at properties where installation was easiest. This allowed KingSett to develop a working relationship with SWTCH and their partnering installer, and since, have scaled up from those first installations. Now, there are more than 100 Level 2 and DC Fast charging stations across 10+ KingSett-managed properties, installed in a span of only a few years.
2. Build It, and They Will Come
All three panelists agreed that while there are multiple impetuses to installing EV chargers in their companies' buildings, giving tenants what they want is number one. Discussing future demand for EV charging in multi-unit residential buildings, Armster said that Tridel was adopting a "build it, and they will come" approach with his current figures demonstrating that 30% of tenants who opt to purchase parking spaces request EV charging capability. Tridel's partnership with SWTCH sees 200-300 stations installed each year, and that number is set to rise as more residents make the switch to battery-electric vehicles.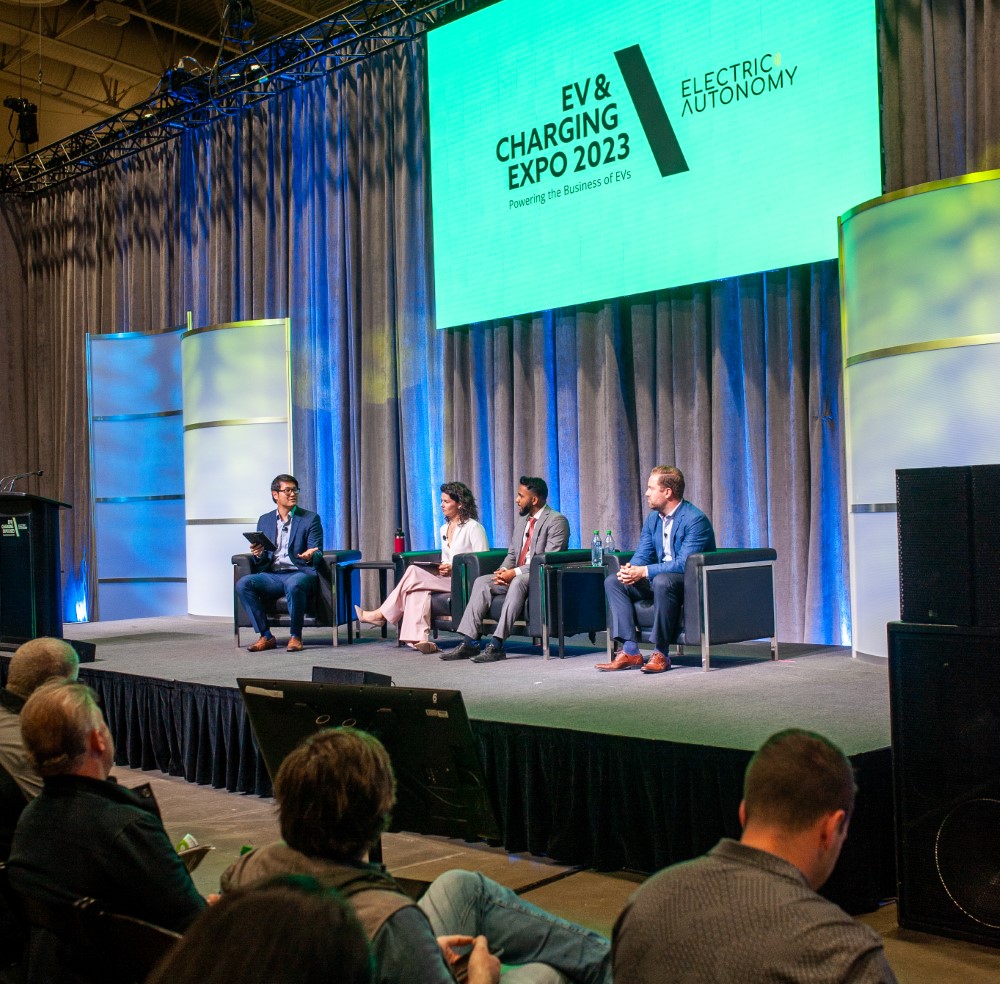 3. Grants, Funding and Preferred Interest Rates Are Your Best Friends
Careful financial consideration is always at the forefront of investment decisions for developers and asset managers. Thankfully, there are several incentives that can substantially reduce the burden. A range of government grants, funding and preferred interest rates can help with the installation of new charging infrastructure. Yachetti shared that NRCan funding grants have helped cover half of the cost for 918 chargers at 245 of Skyline's properties across Canada. Syed attests that on top of NRCan funding, KingSett has benefitted from preferred interest rates from RBC Sustainability-Linked Finance thanks to their charger installation.
We get a preferred interest rate for having sustainable KPIs, and one of them is having EV chargers in our buildings. So, by putting them in we're getting about 5 basis points reduction on the interest rate of our loans.This makes a significant difference for a company with over $16 billion worth of assets under management.
Syed Abid
Building Technology Manager, KingSett
All three panelists agreed there was a range of benefits when investing in EV chargers which could be directly monetized, whether from an interest rate, ESG or LEED perspective.
4. Future-Proof Your Investment
With the IEA projecting 14 million electric vehicle sales for 2023, the future of personal transport is drawing near. Syed says that KingSett is future-proofing its assets with the installation of EV chargers as part of its environmental, social, governance and decarbonization strategies. Armster said that Tridel is looking to the future with its EV chargers by using networked stations supplied by SWTCH to provide usage data allowing the company to make educated decisions. Using technology that's adaptive and scalable is extremely important, he says, as it puts tools in place that allow customers to be nimble and react to the needs of EV drivers.
While the companies represented by the three panelists operate in different spaces, all agree that they have to keep up with the demands of their tenants and install EV chargers across the range of buildings they manage or construct. By working with knowledgeable partners like SWTCH and planning for the future, they hope to continue positioning themselves as leaders in their respective markets. The EV revolution is already with us; it's just a matter of meeting it and being prepared for what's next.
If interested in chatting about how a scalable EV charging system can support the growing demand of electric vehicles from your tenants and residents, get in touch