All articles
Washington Property Company brings EV charging to their 1,600 apartment residents in LEED Gold fashion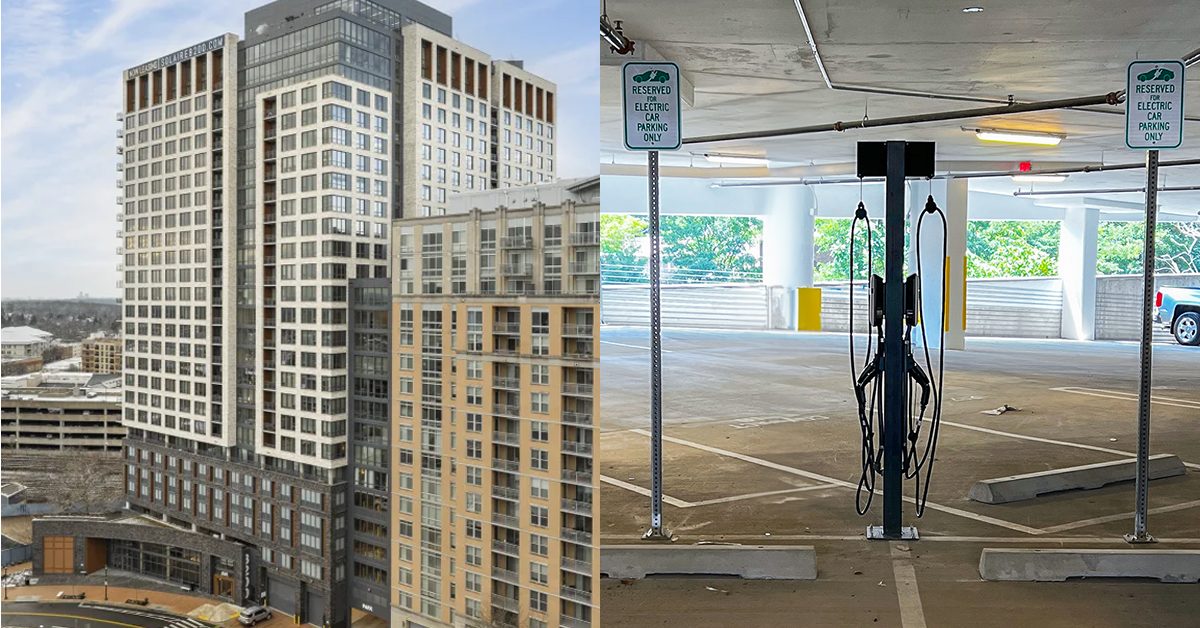 Washington Property Company (WPC) has achieved a significant milestone in its sustainability journey with a Gold-level LEED certification for its Solaire 8200 Dixon multifamily building located in Silver Spring, Maryland, with the installation of 7 EV chargers generating the points needed – vaulting it into GOLD status. This EV charging project was more than just a box checking exercise, Washington Property Company is taking a very intentional approach and methodological approach to designing an EV charging system that supports their residents' needs today, and is able to scale as more and more of their sustainably-minded residents adopt electric vehicles.
Making Sustainability a Core Tenant
Washington Property Company owns and operates five multi-family properties including acquisitions and new builds with a sixth, 22-story building under construction in downtown Bethesda, Maryland. As it owns and manages all of its properties, WPC is able to foster a sense of community by providing its residents with the amenities they value. This approach is in contrast with other holding companies, whose decision making can often be driven purely based on profitability.
Through this "community-first" approach, Washington Property Company has identified that many of the long-term residents its buildings attract are conscious of environmental issues and want to live in properties that are energy efficient and sustainable.
Out of this environmental focus comes Solaire 8200 Dixon's latest green initiative; seven EV chargers on the SWTCH network, with the turnkey project managed by Pangea Charging.
We sat down with Washington Property Company's Jeff Long, a 15-year property management veteran, to discuss how the project provides new mobility options for the building's community and fits with WPC's green ethos.
Discussing the evolving population of the building's residents, Mr. Long tells us that "The residents at 8200 Dixon desire traditional amenities like swimming pools and common areas in which to socialize, but also place great importance on living in a building that has a minimal impact on the environment. Attaining LEED certification, in part due to our recent charger installation, is an excellent way to demonstrate that Washington Property Company has heard the voices of its residents and is acting to give them what they want. They want to be part of a community that has a purpose at the end of the day and that's something that we've seen more and more of in our renter base."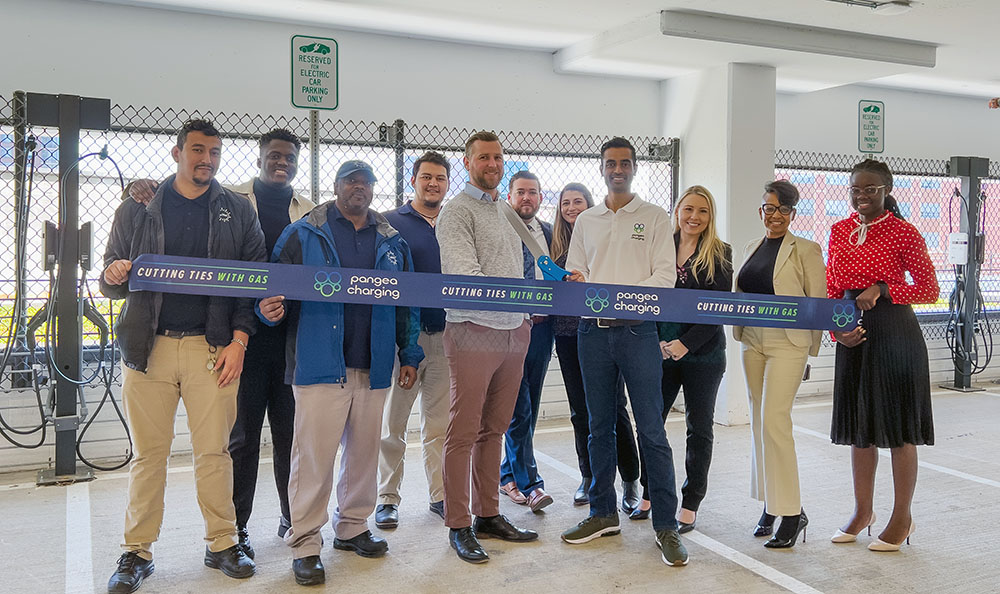 EV Chargers driving LEED Gold Certification
Leadership in Energy and Environmental Design (LEED) is a globally recognized certification system that "provides a framework for healthy, efficient, carbon and cost-saving green buildings".
The Gold LEED rating, helped in part by the installation of EV chargers at 8200 Dixon, demonstrates to residents that their homes are being managed with care and consideration for the issues that hold value for them, but their path to offer EV charging to their residents doesn't stop here. By the end of the year Long estimates that 1,600 of the 1,800 total units in the portfolio will have access to EV charging. Solaire 8200 Dixon's LEED Gold certification was, in part, based on its ratio of EV chargers to units and Long says that this accreditation is a huge step for the company as it's the highest LEED certification for any of its buildings to date.
Pangea Charging & SWTCH deliver a turn-key EV Charging System
As the contractor and manager of the project for Washington Property Company, Anup Parikh of Pangea Charging ensured that the installation and setup was a smooth and enjoyable process. Parikh suggested SWTCH to Long for a number of reasons, including hardware availability, ease of installation, cost, and the multifamily alignment and focus that SWTCH offers.
As a busy contractor, Parikh deals with a lot of providers who want to simply push units out the door with minimal thought given to the client's specific needs. In SWTCH, he says he found a company that shares his values and business goals.
There are so many providers to choose from but with SWTCH I found a partner whose focus on the multifamily vertical is an exact match to our area of expertise. SWTCH has always been one of my go-to solutions for apartment communities. And what I appreciate the most about the SWTCH team is that they are very responsive when I need them.
Anup Parikh
Founder, Pangea Charging
In discussing 8200 Dixon's new chargers, Long was equally impressed by SWTCH both from an ease-of-use standpoint and with the analytics that helps management monitor usage and adoption rates. "Other buildings that I've managed, when EV charging stations were installed, there was a lot of user training and hand-holding needed in order to get started. With the SWTCH charging stations we haven't had any of that. People just want something that's functional, that works. When they roll up, they pull their phone up, the app connects and they can plug in their car to charge."
It's not just the building's residents that are benefiting from the SWTCH chargers, with management able to dive deep on analytics to monitor usage, adoption rates and more: "When I log in, I'm able to see exactly the information that I want on usage. Are we charging? Is it appealing to these residents? It's very intuitive. It's very easy to get the information that we find important and I also think the use from our resident standpoint is awesome. I mean we've got nobody, not one person to show up and say to us, 'How am I supposed to use these?'"
All told, SWTCH and Pangea Charging have served as a winning combination for the residents and management of 8200 Dixon, with Long enthusiastically praising both Parikh and Pangea Charging:
Having somebody like Anup on your side who one, understands the industry and two, can do the vetting and the project management side of it was a huge help. It got to a point where I was like, alright, there's a lot of different pieces to this that we need to project manage, and having somebody like him come in and really grab hold of it all was exactly what we needed.
Jeff Long
Vice President of Residential Management, WPC
With seamless installation handled by Pangea plus the multifamily focus and analytic capabilities provided by SWTCH, more of WPC's residents than ever before now have at-home access to EV charging. The chargers have provided the final push needed for 8200 Dixon to achieve its Gold LEED certification, giving residents the valuable knowledge that their homes are working to minimize environmental impact through smart management and green initiatives. What's more, with the system designed to grow, residents can rest assured that they'll always be able to charge up before a busy day.
If interested in learning more about adding EV chargers to your multifamily property, drop us a line.
Read more
Client Profile
08/28/2023
The Lofts at Beacon Future-Proofed their Building & Business with a Scalable EV Charging System 
Read more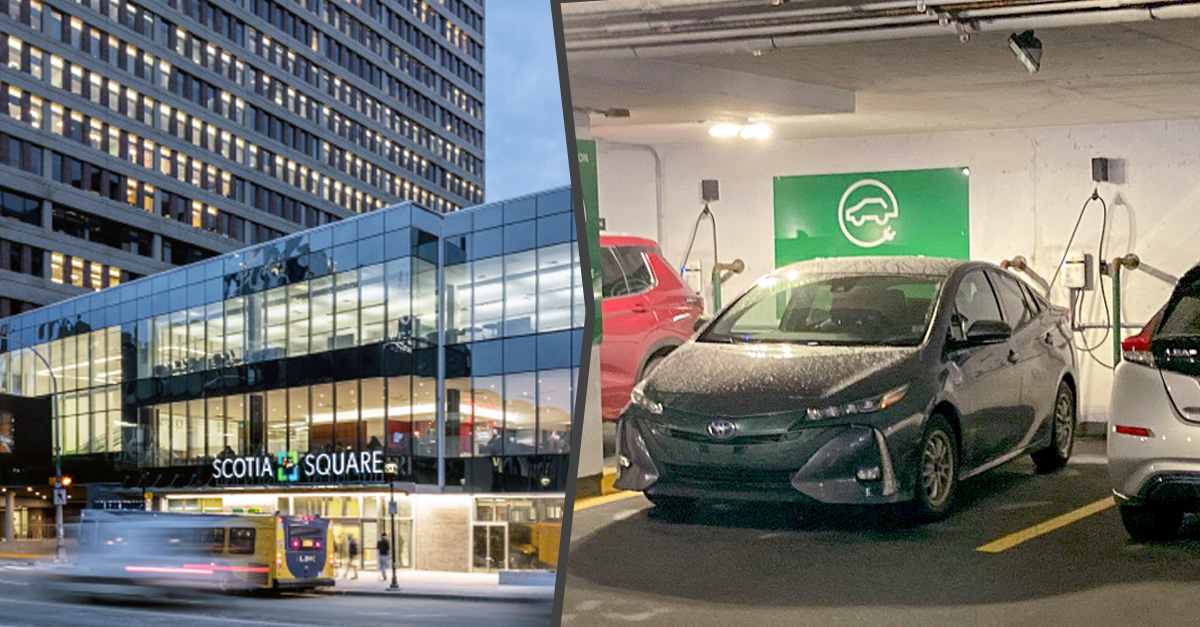 Client Profile
07/13/2023
Crombie REIT Sets the Bar High: SWTCH EV Chargers help propel Scotia Square to BOMA BEST Platinum
Read more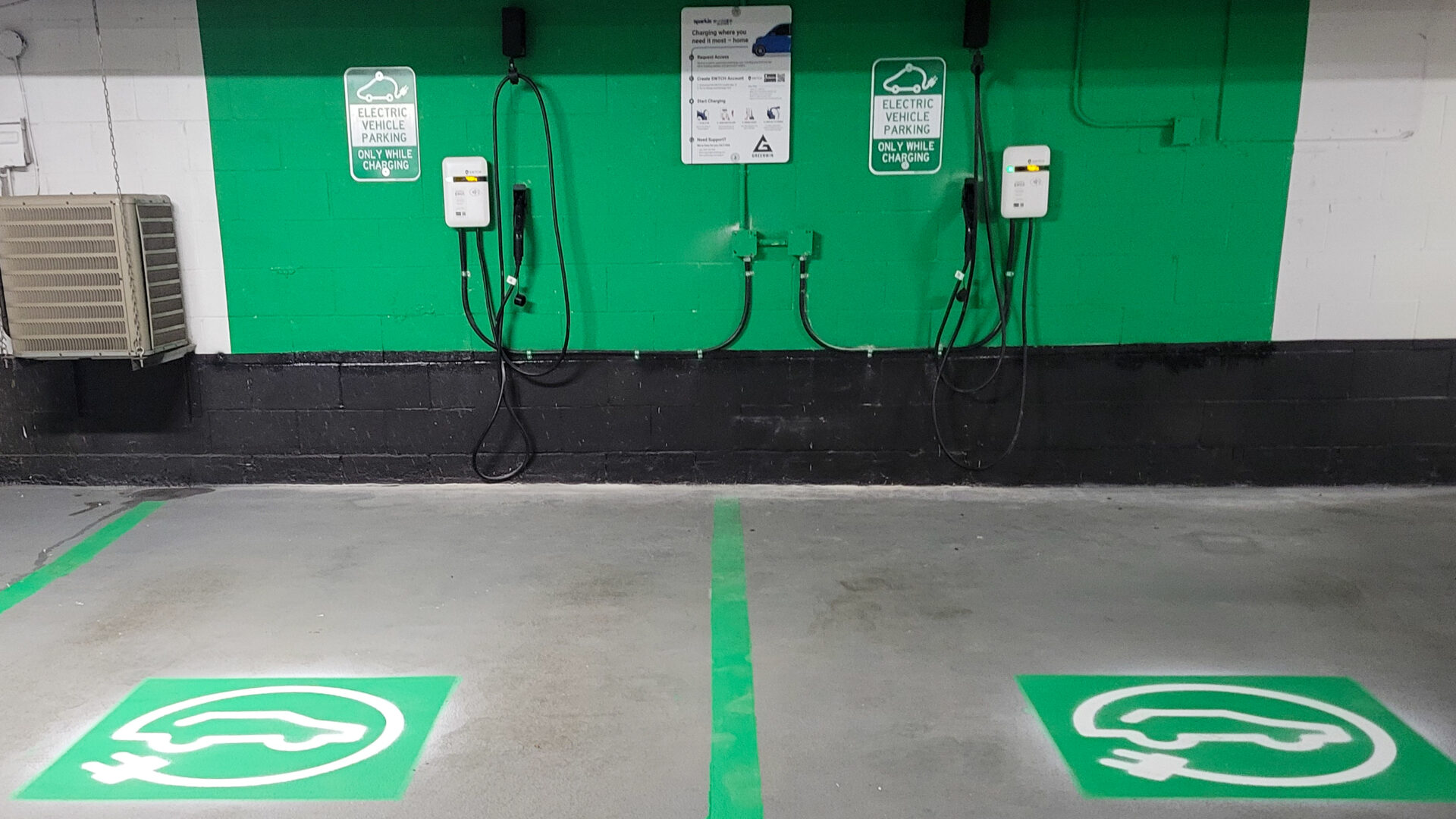 Client Profile
06/29/2023
As-a-Service EV charging - Sparkle is trailblazing a new business model